Dana Brown Begins Shooting Next "On Any Sunday" Feature Film
Chaparral Motorsports
|
December 9, 2010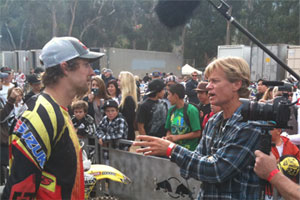 Though still in development stages, the next addition to the iconic "On Any Sunday" film franchise began shooting this past weekend at the Red Bull Catalina Grand Prix under the guidance of Director Dana Brown. Dana's previous credits include "Dust To Glory", "Step Into Liquid" and most recently "High Water". For his next project, Dana will continue the beautiful photography, eye-catching sequences and wonderful storytelling that his father Bruce Brown started with the Academy Award nominated [mageProductLink sku="vid-dv1023b" title=""]"On Any Sunday"[/mageProductLink] (1971) that has become the hallmark for motorcycle movies.


"We had a great, great shoot this weekend," says Director Dana Brown. "The racers and fans were fantastic, the racing was exciting and backdrops of Catalina and Avalon were just perfect. We could not have picked a better event to begin shooting the next 'On Any Sunday' film!" Though no formal name for the next film has been decided, it will include "On Any Sunday" as part of it.


Because the 2010 Red Bull Catalina Grand Prix took place before the formal film package was complete, the motorcycle industry stepped up in a big way to help sponsor the production on Catalina Island. This epic undertaking included a crew of 17, a helicopter, POV riders and more. The companies to thank are Bel-Ray, Hinson Clutches, Kawasaki, KTM, Motion Pro Tools, Red Bull, Resource Marketing, Troy Lee Designs and Yamaha.


"For these companies to believe in the potential for what this movie could be and just jump in to help, makes me even more confident that this is the right project for us to work on," adds Brown. "Thank you!"


Beyond the Red Bull Catalina Grand Prix event, other storylines and locations for the new OAS film are still being discussed, but fans old and new alike will not be disappointed. There should be something for everyone.


"The sport has changed a lot in the 40 years since my dad's first movie and I plan on giving the audience the best of what they expect and the unexpected as well. What hasn't changed however, are the great people involved in motorcycling and that is why I am here," concludes Brown.


The project is slated to shoot throughout 2011 and with an anticipated release in theatres in 2012. It is a co-production between Dana Brown Adventure Films and Pipeline Digital Media, who's credits include "The Motocross Files", "Epic Ride" and most recently, " The Carlsbad USGP:1980".