2011 Yamaha Star Stryker Review
Chaparral Motorsports
|
December 9, 2010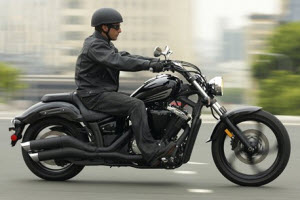 Yamaha's most extreme custom style to date, the 2011 Yamaha Stryker just might be the next one to take the world by storm-just like Yamaha Raider did. Nevertheless, this latest chopper aims to compete head to head against Honda Fury. Way beefier and more aggressive looking than the Fury, the Stryker runs on a liquid-cooled, 1304cc V-twin engine and delivers 78.8-ft. lbs. of torque. But similar to Fury, it also has an extreme chopper-inspired style with raked out front forks, 21-inch front wheel, fat 210-section rear tire, twin exhausts, and an ultra-low 26.4-inch seat.
The awesome looks and design you desire, plus the performance and enhancement you need are rolled into one powerful machine. Superior build quality, solid engineering, well-calibrated drivetrain, and nicely balanced dynamics are all incorporated impeccably in this 2011 Yamaha Stryker. Its stunning looks and "bad boy" character are sure to turn heads, while its engine performance will offer an unmatched riding experience.
Taking into consideration the sacrifices to do custom styling, the Stryker still manages to provide optimum comfort, convenience and riding pleasure. The 2011 Yamaha Stryker sells at an affordable price of $10,990 for the Raven Black. Other available colors are: Reddish Copper and Impact Blue.