2011 Yamaha Grizzly 450 Auto 4X4 EPS Review
Chaparral Motorsports
|
December 9, 2010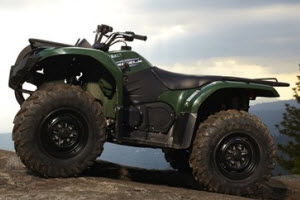 Being a Grizzly, the 2011 Yamaha Grizzly 450 Auto 4x4 EPS shares some of the wonderful features with its big bros, Grizzly 700 and Grizzly 550 like electric power steering, 4WD independent suspension; and liquid-cooled, fuel efficient engine. And with most of its improvements are actual recommendations from customers and dealers, the 2011 Yamaha Grizzly 450 Auto 4x4 EPS is arguably the best mid-sized ATV in the industry.

Yamaha's engineering team definitely did a great gob and went the extra mile with this Grizzly's redesign, while keeping in mind durability and reliability. Its EPS is assembled inside a new one-piece frame that's 6-lbs. lighter than the 2010 model's chassis. With the EPS unit installed, the 2011 Yamaha Grizzly 450 Auto 4x4's total weight decreased by 9.9-lbs. Also, Grizzly's rear wet braking system is now entirely sealed within the rear frame. The overhauled system as well has 20% more torque at the rear wheels and 65% less in the clutch pack, providing lesser heat and friction-only superior experience and resiliency.

This 2011 Yamaha Grizzly 450 Auto 4X4 EPS features an all-new compact size, lighter weight, electric power steering, enhanced braking and ergonomics, and extra amazing functionalities like waterproof underseat compartment-for just $7,499 with EPS. Yamaha's latest bear in the family comes in Hunter Green, Steel Blue and Realtree AP HD camo.

Read the comprehensive review at SmartCycleShopper.com.