2010 Kawasaki ER-6n Review
Chaparral Motorsports
|
December 9, 2010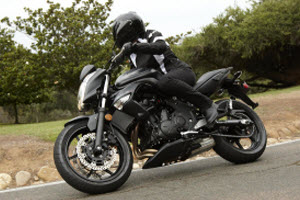 The 2010 Kawasaki ER-6n is an affordable bike (priced at only $6,699) that's easy to ride, performs to just about everyone's expectation with such real flair. Based on its sibling, 2009 Kawasaki Ninja 650R, the ER-6n is the third member of Kawasaki's parallel-Twin-powered family of middleweights.

This naked streetfighter bike may look user-friendly enough for beginner riders who are after a tame yet stylish bike-but this machine definitely has chockfull of character and sufficient performance to set your heart rate level into cardio zone. And though the 2010 Kawasaki ER-6n doesn't look aggressive or boast racing traits up its sleeves, it offers a great mode of transportation for commuting and running errands. It can even efficiently handle weekend leisure trips, as well as occasional long-distance tours.

The 2010 Kawasaki ER-6n may not be a supersport, but it's quite torque enough at (43 ft-lbs of torque at 7,200 rpm) to satiate most riders needs when navigating traffic in a straight line or leaning over towards the curviest of roads. Recreational riders will certainly love its short wheelbase, intuitive handling, and unintimidating seat height of 785mm, which provide a commanding yet comfortable riding position. Adjustable clutch and brake knobs, 6-speed transmission with neutral finder, lightweight chassis are just some other equally admirable features of the 2010 Kawasaki ER-6n that both amateur and professional bikers should look forward to.