"Tron" Gear For Geeky Bikers
Chaparral Motorsports
|
December 3, 2010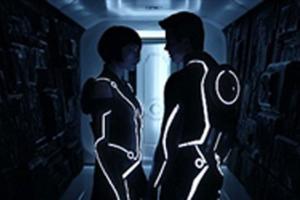 The geek and biker communities don't cross paths too often, but the upcoming release of "Tron: Legacy" has brought the "lightcycles" - futuristic motorbikes used in the original 1982 film - back into the public eye.

Parker Brothers Choppers in Melbourne, Florida, has announced that it will build 5 "working" lightcycles and sell them off for $35,000. But if that's outside of a Tron fan's price range, they might still be able to recreated their favorite film on the street.

Two companies will offer Tron-related custom motorcycle apparel in conjunction with the upcoming movie. In January, the French boutique Les Ateliers will offer a designer motorcycle helmet as seen in the original movie.

Those who want the complete outfit will have to go through a separate company. Clutch and Chrome reports that UD Replicas are offering two full body suits based off of the designs in the remake. The "Sam Flynn" design will be for male riders who want to look like the film's male protagonist, while "Quorra" will let biker chicks dress up like Olivia Wilde in the new film. Both come with jackets, pants, gloves and boots that can bought either individually or as a package. The complete male suit will run for $995, while the female suit will be slightly cheaper at $899.