Custom Headphones For The Serious Rider
Chaparral Motorsports
|
December 1, 2010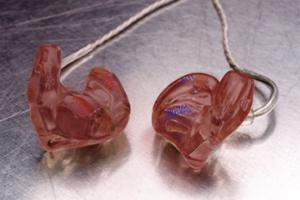 For some bikers, a ride isn't complete without a killer soundtrack accompanying every twist and turn. Yet cheaply-made iPod earbuds don't really get the job done over road noise and the roar of an engine. Those who are serious about their music will likely need a better option in terms of headphones.

The JH-5M Custom In-Ear earphones by Jerry Harvey are the cream of the crop when it comes to custom audio. A pair of these will set riders back $500, but it might be worth it to some. First of all, riders will be getting top-of-the-line audio quality that will completely eliminate any unwanted noise.

Second, riders will never have to play the dangerous game of trying to reattach an earbud that's fallen out. That's because the headphones are custom-fitted to a rider's individual ear. Those planning to order the devices will need to take a trip to the audiologist in order to have their ear canal mapped, which is then sent to the company so that they can ensure a perfect fit. Riders are also able to design the color of the headphones' faceplate and can even use their own graphics and logos.

They may be expensive, but it's tough to argue with the quality provided by a pair of these headphones.