Bigger Bike Tested For 2012 MotoGP
Chaparral Motorsports
|
December 1, 2010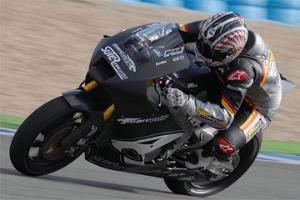 A change in the rules for the 2012 MotoGP season will mean that riders and teams will be able to take advantage of larger 1000cc engines. Although the racing season is two years away, a few of the possible prototypes to take advantage of the rule change have already hit the track in testing.

The new rule lets teams build bikes using 1000cc engines and custom chassis. The Suter Marc VDS Racing Team was one of the first to get on the track with one of the new models, a custom job that the team built using a BMW engine. Testing on the Jerez circuit in Andalucia, Spain, riders Carmelo Morales and Damian Cudlin clocked more than 100 laps on the new bike.

"For a first rollout of the new bike the test has been very successful," said team manager Michael Bartholemy.

The riders were forced to test the bike in both wet and dry conditions, as rain set in during the testing. The team was able to run the track with Michelin wet tires on the second day, but the rain was too heavy on the third day to continue the tests.

"The weather has been a problem, restricting us to just one day of dry testing, but we still managed to complete over 100 laps on the bike with no issues at all," said Bartholemy. "The bike definitely has potential; we've seen that here in Jerez this week. Now we need to sit down with Eskil Suter and his technical team to agree a development plan that will unlock this potential, starting at the next test in January."