Arctic Drystar Gloves Keep Riders Warm Year-round
Chaparral Motorsports
|
December 1, 2010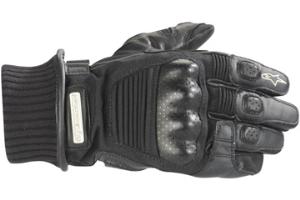 As the temperature drops, many riders put their bikes away and switch to a car or truck that can handle wintry conditions. Others simply adapt their riding style so that they can continue to use their motorcycle year-round. If a biker is planning on doing this, they'll need the proper motorcycle gear.

There are many changes a rider will need to make for winter riding, but one of the most important is in their apparel. A car might be nice and toasty during the colder months, but there's nothing protecting a biker from the winter chill - unless they decide to protect themselves with Arctic Drystar Gloves from Alpinestars.

These gloves feature a Drystar membrane that wicks moisture and repels rain and snow from sneaking in. That allows the glove to adopt a more comfortable short cuff style so riders won't have to deal with longer gloves that extend up their arms.

In addition to the Drystar insert, the gloves also feature a Thinsulate thermal liner that will keep riders' hands warm in chilly conditions. The glove also comes with foam padding and a hardened exterior at key points to protect in case of a collision.

Drystar gloves get the job done and make a great holiday gift for the motorcycle rider who continues to ride no matter what the weather looks like.