Honda Assembles "legends" Team
Chaparral Motorsports
|
November 30, 2010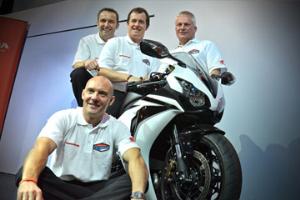 Honda is betting on experience topping youth for next year's World Endurance Championships (WEC), as the Japanese manufacturer has assembled a team of "legends" to compete in the series.

John McGuinness, Keith Amor and Steve Plater will all race for the new "Honda TT Legends" team. All three riders have years of experience in long road races, which Honda hopes will give them the edge needed to take home the gold. The team will be supplied with Honda CBR1000RR Fireblades for their competitions.

All three competitors have had extremely successful careers already, with each winning their share of multiple championships and major events.

McGuinness will be racing full time in the WEC in addition to the Isle of Man TT and Northwest 200. Plater will be racing solely in the WEC, while Amor will handle the 24-hour races of Le Mans and the Bol d'Or.

"The TT Legends name invites people to look back at Honda's great heritage of road racing and put it in the context of the present," said Robert Watherston, motorsports manager for Honda. "Honda's main promotional asset has always been racing, going right back to that first race at the TT, and the first win, whose 50th anniversary we will celebrate next year. Racing the Fireblade is an important element of the team's identity because of the unique heritage and iconic status of the machine in itself."