Hayden Awarded For Promoting Rider Safety
Chaparral Motorsports
|
November 30, 2010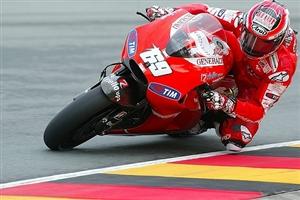 Professional motorsports racer Nicky Hayden has been honored with an award for his involvement with a safety and awareness campaign in Indiana.

The Indiana Criminal Justice Institute (ICJI) presented Hayden with the Executive Director's Award after the racer became involved with a promotional campaign designed to increase rider safety throughout the state. Although known as "The Kentucky Kid," the American MotoGP rider impressed Indiana residents with back-to-back podium finishes at the Indianapolis MotoGP event in the past two years.

The local campaign received worldwide attention after Hayden's involvement. In fact, it was globally recognized with a Bronze Medal at the International Safety Media Awards as a great example of an effective safety campaign.

"I'm honored to receive this award," Hayden said. "It's been great to work with everyone from the ICJI on this project. I know how great riding motorcycles can be when done the right way, and I'm happy to help increase awareness of safety for all riders in Indiana and everywhere."

After winning the MotoGP championship in 2006, Hayden has been looking for a return to form recently. He finished in 7th this season and will again partner with Ducati and Casey Stoner for 2011.