Bikers Across The Country Team Up With Toys For Tots
Chaparral Motorsports
|
November 30, 2010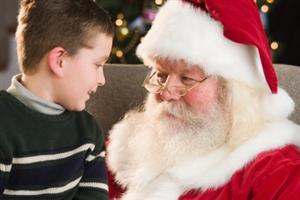 Some motorcycle clubs have gotten a bad rap over the years, but many are filled with generous individuals who take time out to help charity. That's especially true during the holiday season, when riders across the country contribute to programs like Toys for Tots.

In states like Kansas, Kentucky and North Carolina, bikers have been organizing annual motorcycle rides for years with the goal of driving donations to Toys for Tots. Many clubs partner with local military branches for the event.

The Gaston Gazette reports that bikers in the Charlotte, North Carolina, area raised nearly 2,500 toys through their annual ride. Yet rather than use reindeer to deliver the payload, the contents were instead transported via a 1,000-rider pack of bikes that roared through the city.

"We want to help people that are less fortunate than us," said Tony McGill, who founded the local H.O.T. Wheels of Gastonia chapter. "We never know when we're going to be in that situation."

Other cities that held motorcycle rides in partnership with Toys for Tots include Louisville, Kentucky; Topeka, Kansas; and Tampa Bay, Florida.