Trike Conversion An Emerging Trend
Chaparral Motorsports
|
November 23, 2010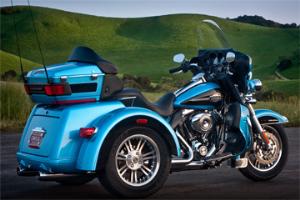 Some riders love the freedom that motorcycles offer, but have to give it up once the bike becomes too much to handle. Others may have short legs or injury issues that prevent them from keeping a bike properly balanced. That's why many are turning their traditionally two-wheeled vehicles into three-wheeled motorized tricycles.

The Milwaukee-Wisconsin Journal reports that trikes have emerged as a viable alternative both among those with balance issues and others who say they simply enjoy the styling of the vehicles. There are a few scattered enthusiasts who perform conversions of popular models, but manufacturers have recently taken notice and begun to introduce three-wheel offerings.

Harley Davidson signed a deal with Lehman Trikes in 2006 to make the Tri Glide Ultra Classic, which has become a relatively popular model. Can-Am has gotten in on the fun with several versions of their Spyder three-wheeler. Some dealers also sell their own conversion kits.

Besides being easier to handle, owners say that the bikes provide more storage space.

"We can get three bags of groceries and a gallon of milk in the back, so there's plenty of space. And I feel so comfortable on it," Marilyn Ganus, a Tri Glide rider, told the news source.