Motocycle Hall Of Fame Adds Nine
Chaparral Motorsports
|
November 23, 2010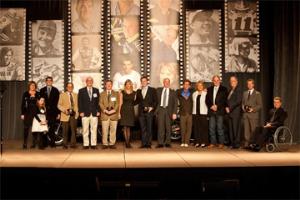 The Motorcycle Hall of Fame has nine new members after the induction ceremony held this weekend at the AMA Legends and Champions Weekend in Las Vegas.

Eyvind Boyeson, Don Castro, Larry Coleman, Clark Collins, David Emde, Mitch Payton, Bruce Ogilvie and John and Rita Gregory were all added in a ceremony honoring the heritage of motorsports. The inductees came from various backgrounds. Coleman, for example, was a champion sidecar racer, while Emde preferred more traditional racing. The Gregorys founded JT Racing USA, which pioneered competition-specific motorcycle apparel, while Mitch Payton was a championship team owner.

Each legend was honored with a video package highlighting their career, a special induction speech by one of their peers, and a ring ceremony.

Tragically, Boyeson passed away just two days before he could receive his honor. He was world-renowned as an engine tuner and mechanical genius who had a knack for eking the best performance out of whatever was put in front of him.

"I will say that my career has been balanced by my ability to do what I truly love," he said when notified of his induction. "To this day, I will always remember the first time I saw a motorcycle. It was magical.