How To Kick Start A Career As A Motorcycle Mechanic
Chaparral Motorsports
|
November 23, 2010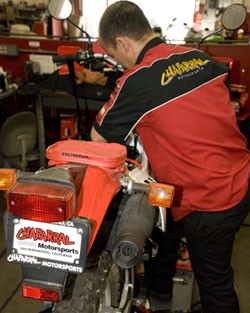 Changing careers is both exciting and stressful, whether you are 20 or 60. Regardless if it happens by choice or you don't have an option, it could be a great opportunity to finally pursue something you truly enjoy. If motorcycles are your passion, consider training for a new career as a technician.

Intrigued? With summer gas prices above $4.00 per gallon, individuals are purchasing motorcycles or dusting off their old bikes to not only enjoy the open road, but also help save money at the pump. The motorcycle industry needs technicians now, but gone are the days when just knowing how to handle a wrench is enough. Motorcycles are complex machines and learning how to use the tools of the trade, including high-tech diagnostic equipment, requires training.

How To Choose The Right School?
Once you've made the decision to pursue your passion, the next step is research. Criterion to evaluate schools should include reputation, accreditation, curriculum, certified instructors with real-world experience, manufacturer relationships and job placement rates.

Will I Have To Relocate?
You may have to relocate to attend the school of your choice. It is helpful to involve family members in your decision. Many schools offer support to find housing and provide information on the local area to help make relocating easier. Some schools even help spouses find jobs.

Can I Afford To Attend?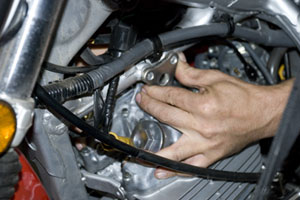 There are many programs designed to provide support for education, including federal financial aid, student loans, scholarships and grants. Some funding has no income or credit restrictions. It is also important to factor in all that each school has to offer, above and beyond the training, when evaluating the cost to attend.

What Can I Expect To Earn On The Job?
Salaries can vary greatly per geographic region, employer and each technician's skill level/experience. According to the Bureau of Labor Statistics, the national average annual salary for a motorcycle technician is $34,010. As they gain real-world experience, compensation escalates.

What Are My Career Options After Training?
There are many opportunities for qualified technicians to pursue successful careers, including employment at local shops and dealerships, in management, on race teams or in the aftermarket. Many individuals set the goal to some day own their own shops. According to the Bureau of Labor Statistics, job prospects should be excellent for people who complete formal training programs.

It's Too Late For Me To Learn New Tricks!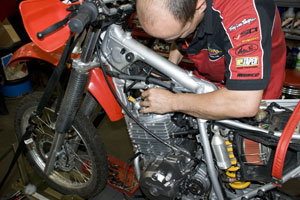 You may be surprised that motorcycle technical school students span the ages of 18 to 60 and include recent high school graduates, military veterans, women, doctors, lawyers and other college graduates.

If motorcycles are your passion, pursuing a career as a technician may be your calling. A successful motorcycle technician not only lives their dream, but has the opportunity to work with others who feel the same. Why not pursue a career you love?

About Motorcycle Mechanics Institute
Motorcycle Mechanics Institute (MMI) is a division of Phoenix, Ariz.-based Universal Technical Institute, Inc. (NYSE: UTI), a leading provider of technical education training for students seeking careers as professional automotive, collision repair, diesel, marine and motorcycle technicians. With campuses located in Phoenix, Ariz. and Orlando, Fla., MMI is supported, equipped and endorsed by all six major motorcycle manufacturers -- American Honda, American Suzuki, BMW, Harley-Davidson Motor Co., Kawasaki Motors Corp., USA and Yamaha Motor Corp. USA. Universal Technical Institute, Inc. also offers specialized technical education programs at eight other campuses across the country through several well-known brands -- Universal Technical Institute (UTI), Marine Mechanics Institute (MMI) and NASCAR Technical Institute (NASCAR Tech). For more information, visit www.uti.edu.