Wunderkind Bike Rider Turns Pro At Age 12
Chaparral Motorsports
|
November 22, 2010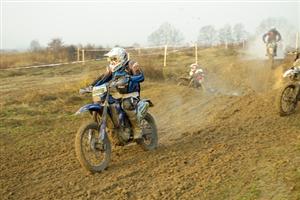 Many professional motorsports competitors get their start at a young age, but few have had such a jumpstart on their career as Pembroke, Massachusetts, resident C.J. McAdam.

According to the Pembroke Mariner, McAdam, 12, has already been racing bikes for five years after being introduced by two of his uncles, who also ride. Since then, he's quickly worked his way up through the New England youth motorcycle rankings. In his last race, he came in third place and earned $60, technically making him a professional rider.

McAdam won the championship in his first full season of racing on a 50cc bike. Since then, he's moved up the youth classes, winning multiple championships and generally dominating the competition across New England, many of whom are significantly older.

"This season I moved up to a bigger bike, a Suzuki 250 cc," he told the news source. "But, I'm also racing against kids on 450 cc."

McAdam said that he was happy to finally make a bit of money off of his passion, but noted he still has a long way to go to achieve his goal of racing motorcycles as a career.

"I know this is what I want to do when I grow up so it's kind of like the start of that," he said.