KTM Releases Limited Edition 50 SXS
Chaparral Motorsports
|
November 22, 2010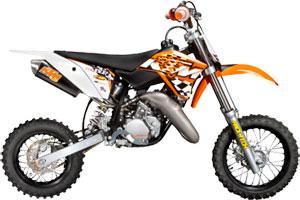 Those looking to get their children into motorsports may want to consider the new 2011 50 SXS, which was recently unveiled by KTM.

This machine is aimed at riders between four and 10 who are competing in their first races in the 50cc class. KTM had previously built an SX bike, but the SXS is tuned for high-performance and is outfitted with a number of the company's "PowerParts," which will also be sold as a separate kit.

"The 50 SXS is built to provide elite 50 racers across the country with a true race bike that is capable of showcasing their talent," said KTM Product Line Manager John Hinz. "Although the production on the bikes is limited, the 50 SXS will be legal for AMA stock classes. Additionally, a SXS kit or individual components can be purchased through your authorized KTM dealer to take your current 50 SX to the SXS level."

Among the improvements to the SXS are a new pipe with silencer, upgraded shocks, a 38-T rear sprocket and Renthol diamond grips.

KTM says the bike will be available for the holiday season and will retail for approximately $4,799.