Michael Jordan Signs Roger Lee Hayden
Chaparral Motorsports
|
November 19, 2010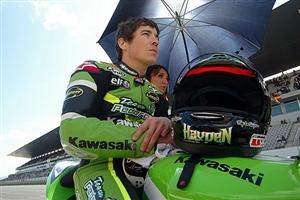 Michael Jordan Motorsports has announced that it has signed veteran rider Roger Lee Hayden, who will compete next year in the AMA Pro Road Racing Championship.

Hayden is the youngest of three famous brothers, which includes middle child Nicky, who races in MotoGP, and eldest Tommy, who will compete against Roger next year.

Roger previously left the country to compete in the World Superbike Championship, but his Kawasaki team was considered underfunded and undermanned, affording him little success. Now back in the U.S., Hayden will team up with new addition Ben Bostrom on the NBA Legend's team, which has developed into an impressive squad over the past few years.

"I'm so excited to be a part of Team Jordan," said Hayden. "These guys have a great crew and I'm excited to get on the bike as soon as possible. I'm ready to show what I'm made of... It's also good to be home, there's no place like home."

Hayden will be back on a Suzuki for the first time since 2000, racing on a GSXR-1000. Last year the team had two Gixxers on the track, one of which was sponsored by the National Guard and ridden by Jake Zemke and the other by Aaron Yates. Both Zemke and Yates are still signed to the team, but their future is unknown as it seems the two bikes are destined for Bostrom and Hayden.