Staring Captures Australian Superbike Championship
Chaparral Motorsports
|
November 17, 2010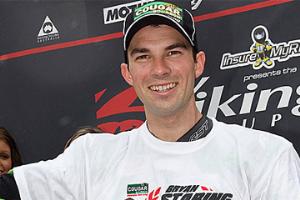 The 2011 Australian Superbike Championship season is in the books, and Bryan Staring has come out on top.

Going into the final two races at Tasmania's Symmons Plains Circuit, Staring held an 18.5 point lead over Wayne Maxwell in second place. On Saturday, Staring took fourth place while Maxwell took fifth, increasing his lead somewhat.

On the final day, Staring needed only to finish to take home the title. If he didn't, however, Maxwell could steal the championship with a 1st or 2nd place finish. With extremely wet conditions, Staring had to avoid a crash at all costs. Racing conservatively, he finished in 8th and took home the gold - but he wasn't happy with his performance in the last race.

"I feel funny about it because that last race went so terribly. I couldn't see a thing out there and it was a real battle to finish," he told the news source. "I couldn't help but think about the championship in today's race, I told myself I'd race to my own agenda, but there were people passing me left, right and center and it was certainly on my mind."

Regardless, the championship cemented Staring's position as an Australian racing legend. At just 23 years of age, he's become the first rider to take the 125cc, Supersport and Superbike titles.