Colin Edwards Preps Texas Tornado Boot Camp
Chaparral Motorsports
|
November 17, 2010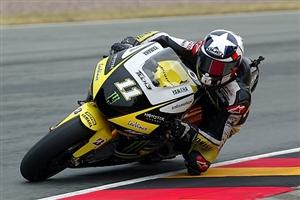 When Colin "Texas Tornado" Edwards isn't tearing up the track for the Yamaha Tech 3 in MotoGP, he's working on his latest venture, the Texas Tornado Boot Camp.

Edwards has purchased an expansive property located near Lake Conroe in Texas. He's currently in the process of transforming the acreage into a camp for both kids and adults, according to Cycle News.

The MotoGP racer plans to offer attendees the chance to learn riding from himself and several other professional instructors, like fellow American rider Ben Spies, over the course of two- and four-day experiences. In addition to getting some track time with the famous riders, campers will have the chance to participate in other diversions like RC car racing, paintball and watersports.

Part of the camp has a "Wild West" theme, with a shop, saloon and old-fashioned bunkhouse that will serve as accommodations for the guests. The bunkhouse will also hold a classroom where instructors will teach proper riding technique before cutting campers loose on one of the tracks.

Edwards plans on keeping the camp open year-round, hosting military and corporate events and hopefully getting a sponsor for kids' camps so they can come free of charge.