Harley's Rocker C Looks The Part
Chaparral Motorsports
|
November 16, 2010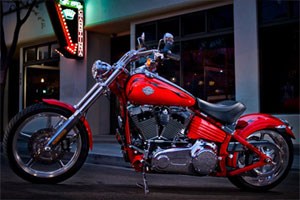 For most bikers, a machine can provide all the performance in the world, but if it doesn't look cool, it's not worth a second thought.

That's definitely not the case with the 2011 Harley-Davidson Rocker C. Ultimate Motorcycling reports that their reviewer got multiple comments and stares from onlookers as they tooled around Los Angeles. That's because the Rocker is a classic chopper with a big exhaust pipe, plenty of chrome and a sleek rear fender.

Yet the Rocker doesn't simply coast by on its looks. The air-cooled 1584cc twin cam engine is capable of producing 92 lb-ft of torque at 3,000 RPM, meaning its the perfect steed for the city rider who loves weaving in and out of traffic - and looking good doing it.

However, the news source reports that the low riding position of the bike means it can generate quite a gust of wind when hitting freeway speeds. Riders looking to take the bike on extended journeys may want to spring for motorcycle accessories like an extended windscreen to make the ride more comfortable.

The bike comes in blue, red, and a choice between two shades of black. There's also an optional "Ghost Flame" add-on for those who want to truly turn heads.