AMA Announces Ice Racing Championship
Chaparral Motorsports
|
November 15, 2010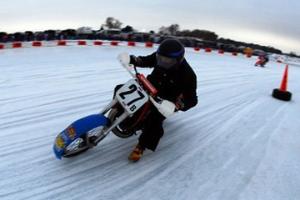 When the first snow hits, most riders pack up their bike and riding gear for the season, but the competitors in the AMA Ice Racing Grand Championships don't let a little ice stop them from pushing their vehicles to the limit.

The AMA recently announced that it will be hosting its first race of the season on January 22nd and 23rd in Birch Run, Michigan. The motorsports organization is teaming with North American Action Sports (NAAS) and the local expo center to turn the races into an event that will be more indicative of a rally atmosphere, with a custom bike show and more planned for the weekend.

"The winter months bring out some of the most dedicated AMA racers, and the best of the best converge on the Ice Race Grand Championships," said AMA Director of Racing Joe Bromley. "Racers and their families will have all the fun they can handle, both day and night."

According to the AMA, riders from age 4 to age 50 will be competing in a number of different classes. Some races will feature slightly modified adventure bikes, while others will require dedicated machines built for ice racing.

Those looking to ride or race during the winter should be sure that they have the correct motorcycle tires for inclement weather.