Travis Pastrana To NASCAR?
Chaparral Motorsports
|
November 12, 2010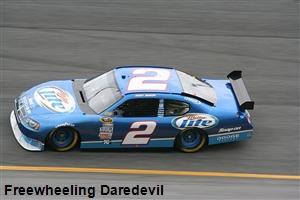 Famed motorsports racer Travis Pastrana is widely considered to be one of the most successful motocross racers of all time, but time will tell if those talents will translate to NASCAR.

Fans of motocross likely know Pastrana from his days as a Suzuki racer in a number of AMA 125cc and 250cc events, but the rider has had success in a number of different competitions. Most recently, the competitor has competed in rally competitions for the Subaru team and individual motorcycle freestyle trick contests.

Now, the superstar will be testing his talents on a NASCAR track. Pastrana has signed with Michael Waltrip racing and will likely compete in several races in the Nationwide series in the 2011 season. NASCAR has not officially cleared Pastrana for competition, a process that usually involves ensuring that the rider's racing resume proves they can handle a NASCAR vehicle. Given Pastrana's highly successful run on the rally car circuit, it would be a surprise if he didn't pass the test.

"I've been following NASCAR closely for years as a fan of the sport with competing in the sport a life-long dream," Pastrana said in a statement. "I decided it was time to try and turn that dream into reality and with the help of the Bechtel family, Michael Waltrip Racing and Wasserman media group I'm now one step closer!"