Rossi Impresses In Ducati Testing
Chaparral Motorsports
|
November 11, 2010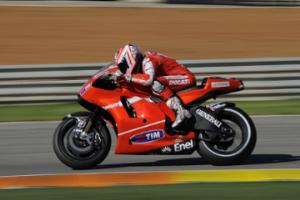 Valentino Rossi isn't officially a member of the Ducati factory team just yet, but Yamaha gave the rider permission to test with the Ducati team this past weekend at Valencia. And if the initial word out of the Italian camp is any indication, Rossi is looking to be a great fit for the team.

Per the terms of his agreement with Yamaha, Rossi can't speak about his experience in the early testing with Ducati. But Filippo Preziosi, director general for the Ducati team, told the Cycle News that he was impressed with Rossi's early testing on the Ducati Desmosedici.

"The most surprising things for me are the way he describes what's happening to the bike, how calm he is," Preziosi said of the nine-time world champion. "That's something I read, but when it happens, it's really strange."

Preziosi compared Rossi to a computer in his ability to give accurate feedback about the technical details of the bike's performance. The Ducati team is currently testing three different engines - two "big bangs" and a "screamer" - in order to determine which to use once the 2011 season gets underway.

Rossi has always been as well known for his meticulous preparation as for his skills on the track. It remains to be seen whether the nine-time champion's switch to the Ducati team will allow him to regain the success he's had in the past.