AMA Congratulates AMA Team USA On Successful Showing At International Six Days Enduro
Chaparral Motorsports
|
November 9, 2010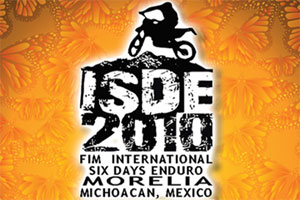 The American Motorcyclist Association (AMA) congratulates the 34 AMA members on AMA Team USA who competed at the 2010 International Six Days Enduro Nov. 1-6 in Morelia, Mexico.

"The ISDE is one of the most storied international motorsports events in the world, and participating there is a highlight of many careers," said AMA President and CEO Rob Dingman. "We're enormously proud of the effort put in by not just riders in our premier classes, but all the club team riders who made the trek to Mexico to race for both individual and national honor."

In the premier World Trophy class, the U.S. team of Destry Abbott, Mike Brown, Kurt Caselli, Jimmy Jarrett, Timmy Weigand and Nathan Woods finished 12 minutes behind third-place Finland. France, led by overall winner Johnny Aubert, won with a 10-minute edge over second-place Italy. Both results came after the final day's racing was cancelled due to security concerns.

Performing best-in-class at the storied event for AMA Team USA was the U.S. Women's Team, which finished second to a dominant French squad. Riders Nicole Bradford, Amanda Mastin and Kerry Swartz, who retired after Day 4, ended the event 1 hour, 10 minutes behind France and 5 minutes ahead of third-place Sweden.

The U.S. Junior Trophy Team, which includes riders 23-years-old and younger, did better in its class, climbing from fifth place on Day 1 to a third-place podium finish behind Spain and Sweden in the final standings. It was a gutsy performance by riders Ian Blythe, Nick Fahringer and Robert Taylor, who had no margin for error after losing fellow team rider Cory Buttrick to injury on Day 1.

In the club team results, the three-rider U.S. club team of Fred Hoess, Andrew Delong and Wally Palmer -- the Tony Agonis Memorial Team -- finished fourth. The other top-10 finishing U.S. club team was GoFasters.com, made up of riders Brian Sperle, Nolan Irwin and Jordan Brandt, which finished fifth.

Another notable finish was that of Motorcycle Hall of Famer Jeff Fredette, who successfully completed his 30th ISDE. Fredette's JAFMAR Team, which also included William Burns and Donald Williams, finished 13th out of 74 club teams.

"We also need to thank the volunteers who contribute hundreds of hours of work to this event," Dingman said. "Without the efforts of folks like Gunny and Laura Claypoole, Bruce Wakeley, Jay Hall, Paul Bucker and Dave Chamberlain, we would not be able to support our riders in the way they deserve to be supported. Of course, we can't forget our team sponsors, whose efforts outfit, feed and support the riders and crew at the event. The AMA Team USA ISDE effort would be impossible without the support of various companies."

Team sponsors of the 2010 AMA Team USA included KLIM, Arai, Spectro, Motion Pro and Bob Lamphere's Honda-Yamaha-Suzuki.

Thirty-one U.S. riders officially finished the 2010 ISDE. Accounts of each day of competition can be read at AMATeamISDE.com. Full results can be found at ISDE-Live.info.