New 2011 Models For Husqvarna
Chaparral Motorsports
|
November 8, 2010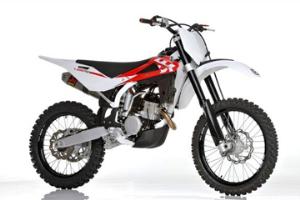 Husqvarna has unveiled its 2011 lineup of motorcycles, featuring a number of changes to existing models and two new bikes that racing fans are sure to be interested in.

The two new bikes for Husqvarna are the SMR449 and SMR511, which the company describes as "supermoto" models. Supermoto combines motocross and road racing into one sport, meaning the bikes must be tuned for top performance on both pavement and dirt.

A Husqvarna spokesman told Ultimate Motorcycling that the new SMRs "are bikes more than ready for off-road competition but also suitable for daily commuting, thanks to their ease of handling, maneuverability and engine response."

Other updates include a number of new color options and limited editions for previous models offered by the company. In recognition of rider Antoine Meo's victory in the 2010 world Enduro championship, the company will release a TE 250 Meo edition that approximates the look of his championship bike.

For younger riders, the company is also introducing the CR65 minibike, which was modeled after the new SMR bikes but power output suitable for beginners.

Those interested in motorsports may want to consider a Husqvarna bike, as the company has been making race-ready models for years.