Ducati Debuts Diavel Power Cruiser
Chaparral Motorsports
|
November 3, 2010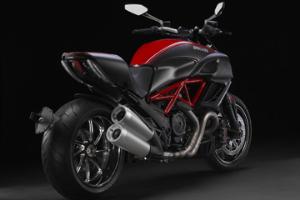 Ducati has unveiled the new Diavel power cruiser, a bike that fits somewhere in between the lighter naked bikes and heavier cruisers.

The new Diavel features aggressive styling that the Wall Street Journal calls a "departure" from Ducati's traditional approach to prioritizing function over form. With a uniquely-shaped fuel tank and big twin exhaust pipes, the Diavel is clearly a bike designed to catch the eye.

Ducati General Manager Claudio Domenicali claims that the Diavel blends a number of different market segments into one bike.

"It is a naked because it is essential, light and agile; a cruiser because it is imposing and also comfortable with a passenger; and a sports bike because it has a powerful heart, muscles, and levels of performance that take your breath away," he said.

The bike includes Ducati Traction Control, anti-lock brakes and a system that allows riders to tailor the bike's performance according to the terrain. The new bike produces 162 horsepower and features a specially-engineered rear motorcycle tire that the company claims increases handling and lean angles significantly.

Also available is the Diavel Carbon special edition, which replaces the traditional body with carbon-fiber parts.