Bombardier Announces Spyder Additions
Chaparral Motorsports
|
November 3, 2010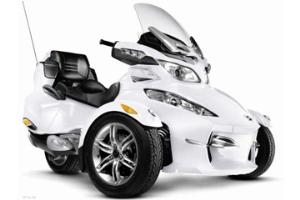 Bombardier Recreational Products (BRP) has announced some changes coming to the 2011 Can-Am Spyder roadster line.

These recreational vehicles are immediately identifiable by their triangular design - two wheels in front with one in back. The company says that this gives the vehicles better stability over their four-wheeled competitors.

New for this year is the Spyder RT Limited roadster, a luxury version of the company's RT design. The limited edition also comes with saddlebags, a high windscreen, dash-mounted GPS and a cushy seat, this vehicle is clearly designed for comfortable longer journeys, while the white finish immediately grabs attention and signals that the vehicle is refined.

While a mixture of white and chrome is featured on the RT model, the RS performance-oriented models are focusing on black designs, sure to be handy once riders get some dirt on them. The RS-S will feature Alloy Orange and Pure Magnesium options while the RT-S will get a sleek new Viper Red scheme.

In addition to the new model options, the company has announced a number of official ATV accessories and apparel. Travelers will be able to outfit their vehicles with extra storage space, HID Xenon lights and a range of accessories. The company is also launching the new Kavalier jacket, which the company claims will hold up in any weather.