Shift Sport Bike Riding Gear Review
Chaparral Motorsports
|
November 2, 2010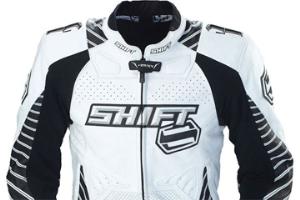 Once a driver has committed to purchasing a street bike, they'll need a new collection of street bike gear to compliment their ride. When shopping for clothes, riders might want to consider Shift.

The company makes a wide range of motorcycle gear that offers protection and style for serious street bike riders. Whether it's motorcycle boots, jackets or gloves, drivers will have nearly endless options to choose from.

Hardcore riders may want to consider the Octane Leather Jacket, the most expensive piece of apparel the company offers. With the long range of features, it's easy to see why. The Octane uses memory foam and removable inserts to create a truly comfortable jacket, but also provides armor inlays for extra protection.

The Kicker street shoe provides the perfect compliment to the Octane. These leather shoes allow riders to achieve a better grip while they're on the bike, increasing their control. At the same time, they use plastic ankle protectors to protect in the event of a crash and moisture-wicking material that will certainly be helpful once the bike gets hot.

Female riders generally don't have many options when it comes to apparel, but Shift offers a full line of women's clothing. Riders will be able to find multiple designs of gloves, jackets and even jeans, like the Silhouette, a pair of pants that include inserts for extra protection.