National Scooter Company Thinking Big
Chaparral Motorsports
|
November 2, 2010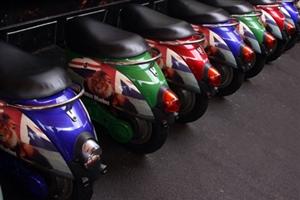 The National Scooter Company has recently relocated to Austin, Texas, but hopes to become the largest electric scooter and bike supplier in the country within the next few years.

Austin offered the company $235,000 in incentives to relocate to the city, according to the Austin American-Statesman. The company accepted, but the new location has CEO Greg James thinking bigger.

The Texas city has a large scooter community as well as a number of residents interested in green initiatives. Initially, James told the news source that he thought electric vehicles could make up 10 percent of the company's offerings. Now, he believes that figure could be closer to 40 percent.

The company's first electric bikes are expected to be in motorcycle stores soon, branded as "AEV" (Austin Electric Vehicle). The scooters can hit 60 miles per hour while the bikes can reach up to 70. The top charge is estimated at around 80 miles.

Yet the company isn't solely focused on selling locally. The Austin Business Journal reports that National Scooter hopes to become the nation's largest purveyor of electric scooters and bikes, with plans to market the products nationwide.

Electric vehicle enthusiasts might want to keep an eye on the company to see if it can attain its goals and reach a national audience, as the scooters and bikes could be an interesting alternative to gas-powered vehicles.