Fury Is Cruiser Of The Year
Chaparral Motorsports
|
November 2, 2010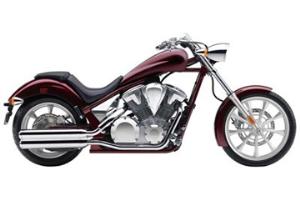 The economy caused many manufacturers to hold off on introducing many completely new models for the 2010 year, but that doesn't mean that there weren't models that were truly memorable.

When all was said and done, there were still a ton of great bikes released in the 2010 model year. Motorcycle Cruiser, a magazine dedicated to the cruiser lifestyle, recently looked at some of the top bikes released in 2010 before naming their favorite.

The news source picked the Honda Fury as the Cruiser of the Year. Although the magazine acknowledged that many bikers feel that the Fury is "not hardcore enough," it's still a tough pick to argue. The Fury packs a number of technological improvements all into one package designed to give riders a comfortable journey. Honda, not typically known for its cruisers, surprised many with its sleek-looking, liquid-cooled middleweight. Honda took somewhat of a risk with the Fury, making it the longest wheelbase the company has ever produced. In the end, it paid off, as the Fury is one impressive bike.

Also entering the discussion were the Triumph Thunderbird and Victory Cross Country. These bikes have their fair share of fans as well, and with good reason. The Triumph, in second place, was highlighted for doing pretty much everything well, although not excelling in any one category. The Cross Country lives up to its name - a bike that riders headed across the country can ride with pretty much no issues.