KTM Announces 2011 Factory Off-Road WORCS Racing Team
Chaparral Motorsports
|
November 1, 2010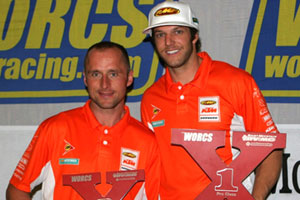 Murrieta, CA - KTM Motorsports is excited to announce that Kurt Caselli and Mike Brown will return to the KTM Off-Road Factory Racing Team to contest the 2011 WORCS events.


KTM is pleased to welcome back the newly crowned 2010 WORCS Champion Kurt Caselli. The talented California native recently earned his second WORCS Championship title after edging out Ricky Dietrich and his own teammate Mike Brown at the final round of the series. Caselli has been selected to represent his country at the International Six Days Enduro (ISDE) multiple times earning numerous Top American Awards. For 2010, Caselli will lead the pack as Captain of the ISDE Trophy Team when the event heads to Mexico the first week of November. In addition to his participation in the 2011 WORCS events, Caselli will also contend the 2011 AMA Hare & Hound Series.


"I am excited to stay with KTM for another year," remarked the WORCS Champion. "I have been with KTM since 2001 and feel at home with the team and the bike. I am happy to be able to defend my title on the brand and bike that I won the championship with and I am looking forward to another successful season with KTM in 2011."


Joining Caselli in the WORCS events is the 2009 WORCS Champion Mike Brown. Known for his days as a motocross racer where he won the 2001 125cc Motocross National Championship, Brown has adapted easily to the off-road world over the past two years. Brown will compete in the WORCS as well as the AMA EnduroCross events.


"I had an up and down season in the WORCS Championship this year but was able to salvage 3rd overall despite a few bad races. I am looking forward to making a comeback in 2011 and putting in a good fight for the championship crown," remarked Brown.


"At the conclusion of the 2010 season, we felt we had the two best riders in the series and are confident in their ability to win races and ultimately the championship. We are proud to have both Kurt and Mike return for 2011 and we look forward to another great season," stated KTM Factory Off-Road Team Manager Antti Kallonen.