New Helmets Inflate Upon Impact
Chaparral Motorsports
|
October 29, 2010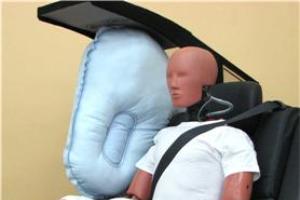 By now, most riders should know the safety benefits of wearing motorcycle helmets. Yet many have still chosen not to adopt this important and potentially life-saving benefit for a number of reasons.

Some riders feel like motorcycle helmets are uncomfortable or inconvenient to carry around. The team at Hovding in Sweden have engineered a potential breakthrough in this regard, and while their product is still in the prototype stage, it could be a game-changer for motorcycle riders.

The company recently demoed a new soft collar that riders wear around their neck while on a bike. The collar features special sensors that can detect speed and movements in the rider's head. When the sensors detect a crash, the collar expands into an inflatable helmet - essentially and air bag for a rider's head - offering complete protection just before impact.

The helmet inflates in an impressive 0.1 seconds, protecting the head in the event of crashes. The product has tested successfully on crash test dummies, but the company says bringing the motorcycle and ATV helmet to market is likely years away.

If the design was to be approved by the Department of Transportation and gain popularity, it could end up being a hit with riders who feel that traditional motorcycle helmets restrict their freedom.