Capirossi Back On A Ducati
Chaparral Motorsports
|
October 29, 2010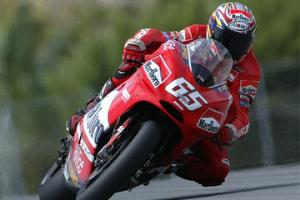 MotoGP veteran Loris Capirossi will play out his final racing season with the team he began his top-flight career with, Ducati.

In a move widely predicted to happen for several months, Capirossi will make the switch from Suzuki to the Pramac Ducati team for 2011.

The rider, now 37 years old, was the youngest world champion ever when he won his first championship at the 125cc level in 1990. Now riding in the top flight of MotoGP, the Italian has struggled since his career-best 3rd place finish in 2006, finishing 7th, 10th and 9th in subsequent season. He currently sits at a career-low of 17th, but hopes to move up the standings in the final two races. Capirossi's best successes in the competition, including his last race win in 2007, came while riding a Ducati.

"This return on a Ducati bike make me feel like a child; I do not feel my 37 years," Capirossi said. "I have a great desire to start this new adventure. I'm enormously pleased about this new agreement that was reached with the Pramac Racing team."

It's unclear at this point who Capirossi's teammate will be. Pramac currently has a rider, Aleix Espargaro, who could be the answer, although there is speculation that Frenchman Randy de Puniet could be joining the team in the near future.