Royal Enfield Cleans Up Emissions
Chaparral Motorsports
|
October 28, 2010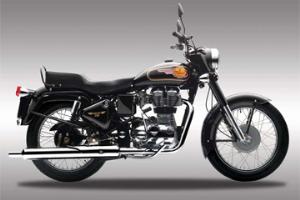 Riders interested in vintage motorcycles have likely heard of Royal Enfield, a British company that was popular in the 1950s. The company made bikes for a number of years, but its claim to fame was as James Dean's bike of choice in many iconic photographs.

With the rise of Japanese brands like Honda and Suzuki in the 1970s, Royal Enfield was forced to close down its British factory and stop exports to the U.S. It kept its Indian factory open, however, and eventually returned to the U.S. market in 1995 - with the exact same bike.

"They were literally the 1955 models sold as new," Royal Enfield USA President Kevin Mahoney told the Orange Country Register. "It was old technology. On one hand, that's what really appealed to people, but they weren't clean enough to be sold in California."

California has tough emission standards that prevented the retro bike from being sold in the state. Mahoney said that California is the biggest market in the U.S., accounting for 30 percent of all motorcycle sales in the country.

Now, thanks to a few new motorcycle parts that cut down on the bike's emissions, the Royal Enfield model has been approved for sale in California, to the delight of retro riders. In this case, the Royal Enfield may not be exactly as it was in 1955, but the brand's commitment to its heritage is what sets it apart.

"A lot of companies right now are trying to throw out retro models," Mahoney told the news source. "We've never changed. Our retro model is what we are."