Kurt Caselli Crowned WORCS Champion
Chaparral Motorsports
|
October 27, 2010
FMF/KTM rider Kurt Caselli was crowned WORCS Champion after taking the victory at the final round of the series at Mesquite MX Park.


Caselli headed to the final race with 3 race wins and a 6 point lead over Ricky Dietrich. Caselli knew that all he needed was to land on the podium to wrap up the championship. He surpassed that goal and walked away with the win.


Off the start, Caselli nailed the holeshot followed closely by teammate Mike Brown. Around the second corner, Brown was able to sneak past Caselli and take the lead. The two riders remained close dicing back and forth on the first lap. After two laps, Brown held the lead while Caselli had dropped back to 3rd. "I began to suffer from arm pump early in the race and struggled to hang on. I dropped back to 5th place on the fourth lap and did my best to maintain my position," remarked Caselli.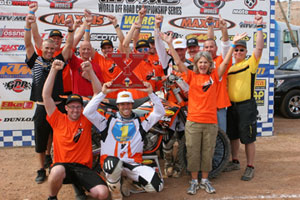 His pit crew saw he was struggling and decided to pit him early at the 45 minute mark to give his arms some rest. The trick worked allowing Caselli to quickly recover and return to a faster race pace. By the halfway point he had moved up to 3rd place. "Everyone else began to pit and I was able to get around them and pull ahead." Caselli passed for the lead on lap 11 and never looked back. Caselli led the remaining four laps to take the win by 31 seconds over teammate Brown who spent the majority of his race battling for 2nd position.


"It feels so amazing to win this championship. I had a really rough year last season and to come back out and finish this season with a championship is the best reward," remarked Caselli. "I want to thank my team and my family for standing behind me this year helping me to achieve this championship."


In addition to Caselli's Championship, KTM was also able to celebrate another race win in the Women's Pro class. RPM/KTM rider Kacy Martinez, who wrapped up the 2010 WORCS Women's Pro Championship earlier in the year, earned another impressive win during her Saturday race. "It feels good to end the season with the championship and the race win. I hope to return to this series next year and defend my title," remarked Martinez.


Overall Results Pro Class

1) Kurt Caselli - KTM

2) Mike Brown - KTM

3) Justin Soulè

4) Taylor Robert

5) John Dowd

6) Nick Brozovich

7) Bobby Garrison

8) Robby Bell

9) Colton Udall

10) Gary Sutherlin

Overall Points Pro Class

1) Kurt Caselli - 226

2) Ricky Dietrich - 202

3) Mike Brown - 193

4) Justin Soulè - 179

5) Colton Udall - 127

6) Bobby Garrison - 126

7) Gary Sutherlin - 117

8) Robby Bell - 97

9) Nathan Woods - 95

10) Jonathan Davis - 87

Overall Results Women's Pro

1) Kacy Martinez - KTM

2) Holly Breck

Overall Points Women's Pro

1) Kacy Martinez - 230

2) Holly Breck - 171

3) Maria Forsberg - 50

4) Sarah Whitmore - 50

5) Jessica Patterson - 43