David Pearson Wins Lucerne Hare & Hound Round 9
Chaparral Motorsports
|
October 27, 2010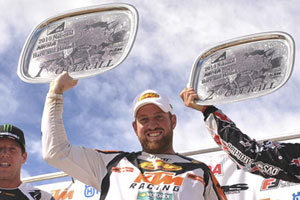 FMF/KTM rider David Pearson ended his season on top of the podium after nabbing the win at the final round of the series at Johnson Valley OHV Park.


Pearson had a poor start after his bike didn't fire on the first kick, but quickly made up for it as he moved into 6th by the end of the bomb run. At the end of the first 29 mile loop Pearson had moved up to 3rd place behind race leader Kendall Norman and 2nd place runner Destry Abbott. Pearson's teammate, David Kamo, was not far behind running inside the top five.


Leaving the pit area after the first loop, Pearson made a pass on Abbott to take over 2nd place. He continued to charge forward on the second loop to come within 10 seconds of Norman. On the third loop, Pearson had Norman in his sites and began to close the gap for the lead. He made a pass on Norman through the rocks about halfway into the loop. Norman followed for a short period before passing Pearson back and the two remained in battle through the end of the loop.


Now on the final loop, Pearson was sitting in 2nd place just a few seconds behind Norman looking for a way to pass. "I knew I needed to pass him and get it done fast so I just tightened my chin strap and pushed hard," remarked Pearson. Approximately 6 miles into the final loop Pearson was able to pass Norman and led for the next 2 miles before he missed a corner and allowed Norman back by. "I missed a ribbon and soon ended up off course. Norman saw me turn around and got by me."


Norman continued to lead until a big rock hill at the final miles of the loop. "We were riding two different lines up the hill both wide open. Norman made a bobble and it gave me the edge I needed to make the pass for the lead stick. I moved around him and hung on for the win." Pearson took the win over Norman by 15 seconds. Pearson's teammate, Kamo, finished the race in 4th position.


"It feels really good to get a win here today. We are putting a pretty big effort into the Baja race this year and this win gives me the confidence I need to head into that race. I am bummed I couldn't have earned more wins this season but it definitely feels good to end the season on top of the box," stated Pearson.


Overall Results

1) David Pearson - KTM

2) Kendall Norman

3) Destry Abbott

4) David Kamo - KTM

5) Quinn Cody

Overall Points

1) Kendall Norman - 234

2) David Kamo - 176

3) David Pearson - 170

4) Destry Abbott - 137

5) Jacob Argubright - 125