Rain Delays Australian Grand Prix
Chaparral Motorsports
|
October 15, 2010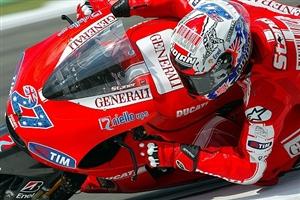 Although the MotoGP crown has already been decided, with Jorge Lorenzo winning the title last weekend, the top riders in the world are still competing for wins in the final stretch of the season. But inclement weather may prevent this weekend's race at Phillip Island in Australia from being run.

The Australian Grand Prix has been delayed several times already due to rainy conditions. Officials tried to get an early race in, but a crash made them hesitate from scheduling any further runs or practice sessions on the slick track. As of now, the weather shows no signs of letting up, with an 80 percent chance of rain expected for Saturday, along with hail. Sunday's forecast isn't much improved, either.

That disappoints nobody more than Casey Stoner, the Australian-born rider who has dominated at the track for the past three races. In fact, Stoner has led every lap except for one over the past three seasons. The rider, currently in fourth place in the standings, could still snag second or third place with a strong showing in the final races of the season.

As the summer weather departs, bikers may want to consider investing in a motorcycle jacket that can protect them from inclement weather. They might also be interested in motorcycle accessories that can improve their bike's performance in wet conditions.