Mini And Smart Electric Scooters Arrive In Paris
Chaparral Motorsports
|
October 4, 2010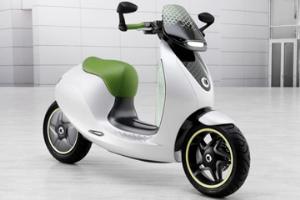 After several weeks of anticipation, the BMW's Mini Scooter E and Mercedes-Benz' Smart Escooter were officially unveiled at the Paris Auto Show.

According to the Wall Street Journal, the e-scooters had "two of the splashiest premieres" at the show, eclipsing some of the hype for more traditional automobiles. Both companies stressed that the designs are early concepts, and that decisions on production would be made based on the reaction in Paris.

As of now, it appears that both will make their way to production, at least for the overseas market. It still remains to be seen whether the vehicles can be successful in America, where consumers have been slow to embrace both scooters and electric vehicles in general.

While range is an issue for electric cars, city-dwellers who traditionally use scooters the most won't have any problem working with the 60-mile range that both scooters have. Both also boast a luxury feature typical of the brands that they are associated with - smartphone integration. The typically pricey cost of electric battery technology that drives up the cost of electric vehicles also doesn't hurt as much when things are scaled down to scooter size.