Contour Camera Mount Review
Chaparral Motorsports
|
October 4, 2010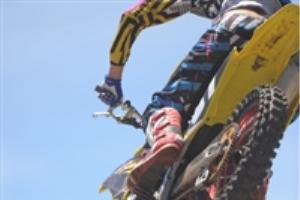 Riders with dirt bikes don't always have a friend and a camcorder around to capture their sickest stunts and coolest tricks. Fortunately, there's a whole range of motorcycle accessories out there that can help do just that.

One of those is the Contour camera. This small device easily attaches to handlebars or motorcycle helmets in order to capture full rides in glorious HD.

The Contour comes in two varieties - the HD and GPS. While both cameras will shoot in 1080p, the GPS camera comes with the added bonus of tracking a rider's every movement by calculating their GPS multiple times per second. Bikers can later use the software that comes with the camera to check out exactly where they rode - and how fast. It also comes with editing software for easy video sharing.

The camera is easy to mount on most bikes with its basic included package, but the company also makes a number of add-ons that can assist in mounting on unconventional areas - like oversized handlebars.

Whether a rider is cruising cross-country and wants to document the adventure or simply wants to capture the moment they finally nailed that jump, the Contour can help them save those memories.