Buttrick Wins Final National Enduro
Chaparral Motorsports
|
October 4, 2010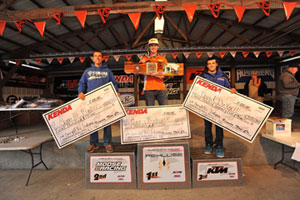 FMF/KTM rider Cory Buttrick won the final round of the AMA National Enduro Series marking his second win of the season.

The 19 year-old FMF/KTM factory rider has put in multiple impressive rides this season to land on the podium 7 times. His consistent top finishes and powerful win at the final round awarded the young star second overall in the championship point standings.

The days leading up to the final round were quite dry. Riders were worried the Muddobber National Enduro was going to be one of the dustiest rounds of the series. But as the riders geared up early on race day - rain began to fall. The rain continued on and off for the remainder of the day. "The course was very challenging. It was super slick and greasy on the top and then underneath would be a thick layer of loose dirt," commented Buttrick.

The race consisted of six special tests. Buttrick finished second fastest in the first four. "I fell a few times in the first couple special tests because it was so slippery. My times were decent, but I knew I needed to pick up the pace if I wanted to take home the win," remarked Buttrick.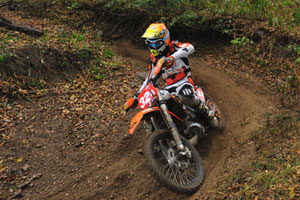 With two tests left, Buttrick did just what he needed to. He and his KTM 250 XC race machine were able to pull the win from Yamaha's Charles Mullins after two excellent runs on the final tests. "My two-stroke was a definite advantage in the final tests. The tighter and more technical the course became, the easier it was for me to handle my bike down the trail." Buttrick's race win moved him from 4th to 2nd in overall point standings.

Buttrick's FMF/KTM teammate, Russell Bobbitt, struggled to find his speed. He came into the final round sitting second in points and needed a decent finish to remain in that spot. Russell remained close to both Buttrick and Lafferty in times throughout the first four tests but lost significant time in the final two. "I just rode too cautious at the end. I was worried about crashing and losing a bunch of time but I ended up losing just as much time playing it safe," stated Bobbitt. At the end of the day, Bobbitt was able to finish 6th in the race and 3rd in the overall championship point standings.

Overall Results -

1) Cory Buttrick

2) Charles Mullins

3) Thaddeus Duvall

4) Glenn Kearney

5) Mike Lafferty

6) Russell Bobbitt

7) Nick Fahringer

8) Steward Baylor

9) Andrew Delong

10) Joshua Gaitten

Overall Championship Standings

1) Charles Mullins - 239

2) Cory Buttrick - 214

3) Russell Bobbitt - 212

4) Mike Lafferty - 205

5) Nick Fahringer - 175

6) Glenn Kearney - 150

7) Brad Bakken - 108

8) Cole Kirkpatrick - 107

9) Andrew Delong - 103

10) Joshua Gaitten - 84