Metzeler Tires Launches MetzelerMaps.com
Chaparral Motorsports
|
September 29, 2010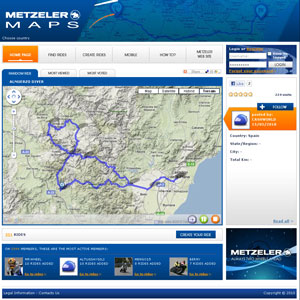 MetzelerMaps.com is a new website allowing users worldwide to search and upload the best touring routes for motorcyclists; create a profile; save trips, maps, videos and photos; and share adventures with other users who will be able to submit their own comments, reviews and suggestions.

The site lets riders search for new trips by key words, location, type of trip, distance, or type of bike. Searches can be as specific as needed; for example, users can search for long excursion trips in the mountains, for just a daytrip, or for folks who ride the same type of bike or share similar interests.

After users have decided on a trip, they upload it onto their smartphone or GPS system. A trip can be uploaded after being ridden, and then recorded straight from a mobile phone or by drawing the route on the map after returning home. MetzelerMaps.com can help riders plan a trip and share with friends, who will be able to see it and download it on their GPS unit or mobile phones and share their own experiences as well.

"MetzelerMaps was born after several months of development and beta-testing carried out by European bloggers, which provided us with important feedback," Chris Wall, Metzeler Moto North America's director of marketing, said in a news release. "We truly believe in technology and innovation, but we are also bike fanatics and are proud to be releasing this tool as a gift for all bikers and their communities."

MetzelerMaps.com is free and has no specific browser requirements.