Leaked Gixxer Sketch Hits The Internet
Chaparral Motorsports
|
September 27, 2010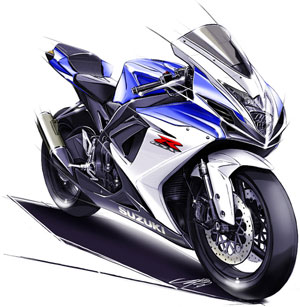 Despite the company's success in AMA motorsports events, Suzuki fans have had little to cheer about as of late, as the company held off on importing any models to the states in the midst of the economic recession. Meanwhile, the company's GSX-R ("Gixxer") series of bikes, once considered to be one of the top sports bikes available, were surpassed by Japanese and European competitors.

That may change soon, as a leaked sketch of a new Gixxer has hit the internet, revealing what looks to be an updated version of the GSX-R600. The bikes are set to debut at Suzuki's dealer show in October, but the images somehow found their way onto the web beforehand. Suzuki has yet to officially confirm or deny if the sketches are real.

Looking at the leaked sketch, many Gixxer fans might be disappointed, as the model looks very similar to the 2009 entry in the series. Yet multiple sources report that Suzuki has redesigned the bike from the ground up, and while the appearance may be the same, the other motorcycle parts are all-new and updated according to modern technological advances.

Although only the 600 was revealed, it is highly probable that Suzuki will also deliver the 750 to American shores, as the two models are closely related and it wouldn't cost the company much to do so. The 600 and 750 are expected to be accompanied by the GSX-R1000, which will receive a minor facelift.