Hayes, Hayden Prepare For Weekend Showdown
Chaparral Motorsports
|
September 27, 2010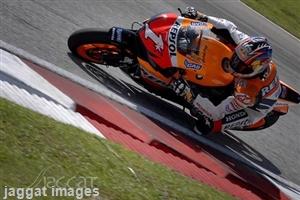 With the final race of the AMA season set to kick off this weekend at Barber Motorsports Park just outside of Birmingham, only two riders could possibly walk away with the championship in the competitive superbike division. After a season's worth of racing, the showdown is set for the two top riders: Josh Hayes and Tommy Hayden.

With Hayes up by 22 points, most believe that he'll be able to ride conservatively and easily walk home with the title, possibly even locking things up on Saturday before the second race on Sunday. Yet Hayden is no stranger to come-from-behind wins.

As the older brother of MotoGP rider Nicky Hayden, Tommy witnessed Nicky's unexpected upset of motorsports legend Valentino Rossi at the 2006 World Championship. Rossi came into the final race with a sizable lead, but Hayden shocked the world with some tremendous riding and walked away the champion.

"Obviously, I'm not the favorite at this point to win the championship, but I do definitely think there's a lot of points up for grabs and I'm going to try to put as much pressure on until the last checkered flag as I can to make sure that Josh has to ride as hard as he needs to. Won't make it easy for him and hope for a little luck and that's all I can do," Hayden told the Cycle News.

The champion will be determined this weekend.