Hayes Cruises To Superbike Championship
Chaparral Motorsports
|
September 27, 2010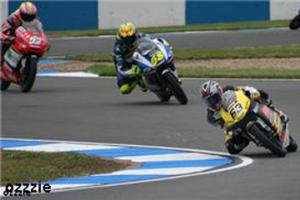 Josh Hayes is the new AMA Superbike Champion after two races closed out the 2010 season.

Hayes entered the weekend with a 22 point lead over Tommy Hayden, who would have needed more than a little luck to close the gap on the points leader. On Saturday, the two battled at the top of the pack, with Hayden coming out on top and Hayes finishing second. The win narrowed the lead to 18 points entering the final day and kept Hayden's hopes alive, if only barely.

If Hayes crashed and earned no points, Hayden still would have needed a third or better finish. When rain clouds opened on the track, slippery conditions meant that the final race could be interesting. Hayes had a brief scare when rider Brett McCormick crashed in front of him on lap ten, but Hayes coolly went to the grass to avoid him before getting back on track.

Hayden, meanwhile, was ahead of Hayes but not by enough. In the end, he couldn't get by Blake Young, John Hopkins or Larry Pegram and finished the day in fourth place, chipping just two points off Hayes' big lead after the eventual champ finished seventh.