Ribs Will Hold Bostrom Out Of Final AMA Race
Chaparral Motorsports
|
September 24, 2010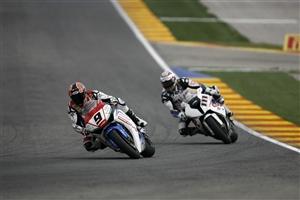 A pair of broken ribs will keep superbike rider Ben Bostrom out of the final AMA race at Barber Motorsports Park in Birmingham, Alabama, this weekend.

Bostrom brokes his fourth and fifth ribs in a non-serious crash at the last race in New Jersey. The rider, who has raced with broken ribs before, didn't initially believe the injury would threaten his participation. But after testing his Yamaha R1 over the past few weeks, he determined he simply couldn't risk puncturing an organ on a more serious accident.

"Holy cow, I made about five minutes and just realized I can't ride. I can't hang off the right side because my ribs four and five are broken. Normally you break six through 12," he told the Cycle News. "I would ride through on any injury. This is the only one I realized I can't ride safely and strong enough, because our bike's easy to ride around Barber. I think we have the best bike, a winning bike. But I'm not in shape to ride it."

The race will determine whether points leader Josh Hayes can keep his lead, or if Tommy Hayden can put in a dominant performance and sneak away with the championship.

Bostrom is currently in fourth place in the points standings, meaning he didn't have a chance of winning the title this weekend. However, the incident has ended any hopes of a third place finish and may force him further down the standings should Larry Pegram or Blake Young post strong finishes.

Jake Holden will take Bostrom's place for Yamaha.