Thor Sentinel Roost Deflector Review
Chaparral Motorsports
|
September 14, 2010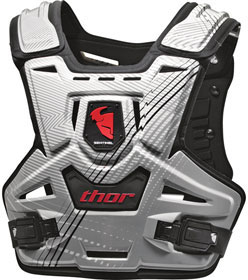 The Thor Sentinel is one of the hottest roost deflectors on the market. Thor is known for its clean lines and relatively simple styling in its motocross gear.


Why We Like It:
The engineers at Thor racing know the importance of the design and quality that goes into each and every piece of gear they design. The same demands that pro racers require are the same demands that you and I require when it comes to our safety, and they know it. Roost hurts, and trying to pass a rider whose blasting you with large chucks of the track hurts a lot. That's why the pros wear roost guards and that's why you should too. I always wear a roost guard even when I'm not racing, 'cause passing your buddy's thumper while it's spewing trail rocks and debris hurts just as much.

The Sentinel gets its incredible versatility from its three-way modular design, which allows the rider 3 choices:

1. Full back plate attached,

2. With full back plate attached and number plate or

3. With back-strap for front only configuration.

The Sentinel has a suggested retail of $89.95* and fits riders in the 120-200 pound range.


Where Improvements Can Be Made:
The Sentinel, is really designed for smaller or average sized individuals and I wouldn't recommend it for those pushing the weight range suggested by Thor. At 6'1" and 190 pounds, I had to double check to make sure I wasn't trying on a youth version. I wasn't but when on, it looked and felt like I had squeezed into a kids roost protector.


The nitty-gritty:
Thor has recently introduced their next generation in roost protection with the Sentinel. The Sentinel is a very versatile, and one of the best fitting and lightest roost protectors that Thor has ever made. Weighing in at just 1.4 lbs, the Sentinel incorporates numerous vents and air channels for maximum ventilation. Designed for riders who look for coverage without the bulk and excess weight, the Sentinel is pure performance. Thor's exclusive Uni-Shoulder design helps provide structural rigidity whether the sentinel is used as a full version or in its front only style. Protection doesn't do any good if it's not securely in place, so Thor developed their first ratchet style closure system for a secure comfortable fit. Versatility was also a crucial element, so Thor included both the back strap and number plate with every Sentinel. Ready to race, right out of the box, the Sentinel boasts additional features including molded bio-foam interior, injection molded exterior shell, a slim profile to fit under jersey, extensive venting for maximum airflow, and an integrated sternum plate.


The Bottom Line:
Overall, the Sentinel is a good design with versatility and quality construction that is very light weight and will work very well for most riders.

*Price may vary