Mothers Powerball Review
Chaparral Motorsports
|
September 14, 2010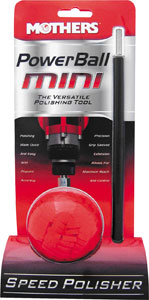 The hardest thing to do when cleaning my motorcycle is those cast aluminum rims. Between the oxidation and road tar, it's only through massive elbow grease that I can get them to look decent again. I had tried a lot of products to make my life easier and none seemed to really help much until I was tipped off to Mothers mini Powerball. My first thought was that winning the mega lottery would solve many problems in my life, but knowing that odds of winning the lottery were greater than being struck by lightning a dozen times, how was this really going to help? Mothers PowerBall is a foam ball that attaches to your electric drill. Instead of polishing small surfaces by hand, you can get them done faster and with much better results with the PowerBall.


Why We Like It:
Using the mini powerball and some Mothers billet metal polish, I attached the PowerBall to the extension using a 10 mm wrench and got to work. It was easy to use. I could reach into places where my big hands just wouldn't squeeze. The Powerball cleaned and polished my rims to perfection in a fraction of the time it would have taken me to do the same job by hand. I used my 18 amp cordless drill so I wouldn't have to deal with cords. There were a lot of uses for the Powerball, the more I thought about it. Not only for polishing wheels, but it would work touching up small areas of paint, clarifying headlight lenses and plastic windows, and polishing stainless steel providing you used the correct polishing compounds or products. The Powerball can be washed and reused countless times before showing any signs of wear. When it does begin to wear, the instructions state to simply reverse the PowerBall by removing the bit and retaining washer.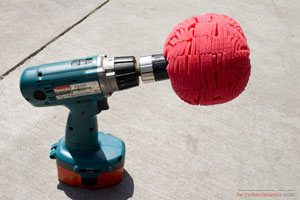 Things to Consider:
After I finished the rear wheel, I needed to flip the polish soaked powerball over as suggested by the company. It was a real bear to unscrew the Powerball off the extension. I did get it, but man, I must be getting weak in my old age or something.

You also need to be careful not to catch it on anything sharp when in use. Doing so will start to pull your Powerball apart and you don't want to have to shell out money for a replacement too often.


The Rundown: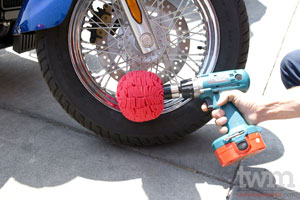 The patent-pending detailing tool is made of professional grade closed-cell foam that is soft and highly absorbent. When you press the PowerBall to a surface, the sturdy foam maintains its shape so that there is a thick cushion between your vehicle and the drill. The individual foam tabs that compose the ball provide excellent polishing capabilities in combination with any polishing product. The PowerBall not only cuts your detailing time in half, it does a superior job. Works to revitalize billet, diamond plate, aluminum and any uncoated metal that can be polished. The larger Powerball retails for around $35.


Final Thought:
I loved how the Mini PowerBall worked and that it could reach into places my hand can't reach. Much more efficient than hand polishing, the Mothers Mini Powerball did the job beautifully and got me out riding with super shiny wheels quicker than ever, and that's what I really loved about it.


For More Information:
[mageProductLink sku="353-2007" title=""]Mothers PowerBall[/mageProductLink]
[mageProductLink sku="353-2011" title=""]Mothers PowerBall Mini[/mageProductLink]