GIVI T435 Tunnel Bag For Scooters Review
Chaparral Motorsports
|
September 14, 2010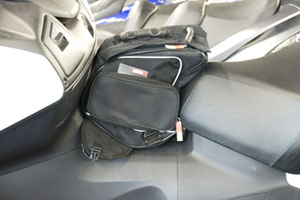 We love our scooters. Some of us use them to commuting to work or raising a ruckus around town' scooterists also face many of the same challenges traditional motorcyclists face. Like fellow two wheeled friends on motorcycles, scooterists have a storage/carry issue with their un-caged choice in transportation. GIVI has been making quality bags and top cases for both motorcycles and scooters, and they have a good reputation for quality. I decided to check out the GIVI T435 to see if it would solve storage issues scooter riders face.


Why We Like it:
The GIVI T435 tunnel bag was actually designed for the Suzuki Burgman, but will work well with many scooters including including the Honda Reflex 250, Honda Silverwing 600, and the Yamaha Majesty 400. It even works well with smaller scoots like Vespa ET2 and ET4's. In some cases, mounting the bag backwards seemed to make more sense and was visually more appealing. Turned backwards it looked like it was tailor made for the Vino and has plenty of room to carry the few necessities I need for a day trip or your commute to work. A few school books, a sweatshirt plus a couple water bottles will fill the bag with a little extra space to spare. The bag can be unstrapped, and carried to class or work when you reach your destination serving double duty as a day pack.


Things to Consider:
Unfortunately, the Givi T435 won't fit your helmet, but has plenty of room for everything else you might need. Some may not dig the idea of pasting Velcro on the nice paint of their scooter, but the thought of your bag and stuff flopping off and dragging is even less appealing.


The nitty-gritty:
The GIVI-T435 is a universal soft bag for scooters, being used on the central tunnel. It can be used to make the ultimate traveling companion and comes complete with security straps for easy installation and rain covers for light showers. It can be mounted to either the passenger seat or rear rack.

Capacity: 20 Liters

Dimensions (wxdxh): 12.4'' x 8.6'' x 7 > 14.1''.

Material: Simulated leather and polyester


The bottom line:
Carrying stuff on a two-wheeled vehicle has always been a challenge and scooters are no exception. The GIVI soft T435 tunnel bag is a handy way to carry some essentials safely without the hassle or ham-fisted look of a top case. The GIVI T435 had plenty of options to securely attach it to a multitude of scooters and is removable, so when you upgrade your scooter your bag can stay with you. The bag actually looked pretty good on all the scooters we tried it on, must be that Italian penchant for appealing design. When compared o the alternative, the Givi T435 offers a competitive price, functionality for a scooterists, and an attractive added design to any scooter.