Custom Motorcycle Cruiser Tire Buyer's Guide
Chaparral Motorsports
|
September 10, 2010
|
Last Updated: May 1, 2020
This Custom Motorcycle Cruiser Tire guide provides a list of top cruiser motorcycle tires and reviews the benefits of these tires. There are other tires built and marketed for cruisers, but the tires featured here make real visual statements. We are taking a look at the fattest, widest tires on the market for customer cruise guys looking to beef up their metric machines. We have heard cruiser owners ask when they will be able to buy tires with color highlights on their sidewalls and others want to see the entire tire colored. Retired and military-enlisted riders may even have an interest in camo tires. Discover the selection of cruiser front and rear tires available from top manufacturers.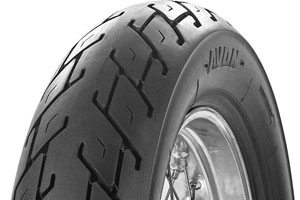 [mageProductLink sku="330-5026" title="Avon AM21"]Avon AM21 Rear Tire[/mageProductLink]
This tire, the original ultra-fat rear tire, literally inspired customizers to build motorcycles around it, since no existing frame would fit its massive 234mm width. Combined with its squat 60 profile it suggests an abundance of power that can be controlled only with maximum traction. Whether you're actually packing that power doesn't really matter, the visual message is unmistakable. And you can always use that big footprint for hard braking. Though getting it to steer in concert with a relatively skinny front tire will doubtlessly be challenging, it does have a motorcycle profile, and Avon claims good stability and ride comfort. Tire cost will be the least of your concern if you decide to mount one of these onto your bike. The 230/60H15 tire requires at least a 6.25-inch rim width, but 8.0 inches is recommended.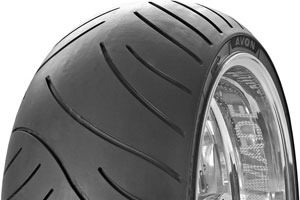 [mageProductLink sku="330-5350" title=""]Avon Venom R250 Rear Tire[/mageProductLink]
In the fast-moving world of custom bikes, a mere 234mm is no longer enough to turn heads, so Avon went fatter with the Venom R250. The 252mm (9.9-inch) wide Venom 250 upped the ante and is one of the widest motorcycle rubber on the road. However, the 250/40R18 needs a rim that's at least 8.5 inches wide with a 9.0-incher preferred. Don't count on slipping one on your stock Vulcan. The Venom 250 is also H-rated.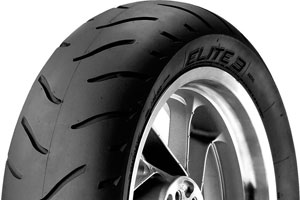 Dunlop Elite III Rear Tire
This custom wide tire revolutionized the touring and custom bike market. Custom wide Elite 3 tires are original equipment on several Harley-Davidson models and the Victory Hammer. The extra-wide custom sizes of 240/40R18 and 250/40R18 offer good looks plus great handling and performance for custom motorcycles.


Maxxis Classic
Maxxis offers its Classic wide whitewall in several sizes. There are fronts ranging from 16 to 19 inches. The rears are available in 15-inch versions and 16-inch widths. All are H-rated and can be run tubeless.


Metzeler ME880 XXL
This sucker is huge. Probably too fat for your stock bike. The ME8800 XXL is Metzeler's versions of the maxi-meat tire are steel-belted radials with V or Z speed ratings. The XXL comes in six rear sizes: the huge 240/50VR16 and 240/40VR18, 210/50ZR17, 200/60VR16, 200/50VR18, and 180/55VR18. Remember upgrading to this tire would require at the least a wider swing arm, but you might also want to measure the garage door.