Another Win For Bryan Smith And Kawasaki
Chaparral Motorsports
|
September 9, 2010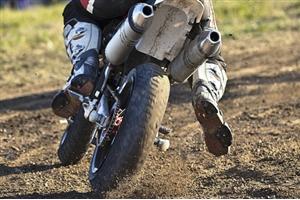 Bryan Smith repeated his performance from last week as he guided Kawasaki to its second win in a row in the AMA Pro Grand National Championship.

Like last week's race at Indianapolis, the contest at the Illinois State Fairgrounds came down to the wire as Smith narrowly edged Chris Carr again by just 48 thousandths of a second. Smith and Carr finished one-two in the previous week after leaving most of the pack in the dust.

But unlike the prior result, this race was a pack battle, with the riders generally sticking close together. Carr had trouble drafting Smith, and his race was made more difficult by the fact that his brakes failed about midway through the twenty-five lap race.

"I had to change the way I went into the turns to avoid hitting anyone," he said. "It took a while to figure it out, but I just couldn't draft the Kawasaki."

Smith, meanwhile, believed that he could have posted a more impressive win had his team adjusted a few motorbike parts before the race.

"We were geared too low, it was my call, but I think if we had been geared a little taller I might have been able to get away. That was the idea going in," he said.

Despite the recent success, Smith still trails Carr and a number of other riders in the points standings.